International reference and standard in Information Security Management. Its principle is to adopt a set of requirements, processes and controls to manage organisation risk properly. The scope of certification is the protection of our clients' projects information.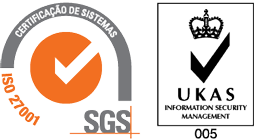 We were certified in April 2012 in accordance with Standard ISO 27001 to reduce risk and increase the protection of its clients' information.
The ISO 27001 Standard is the international reference and standard in Information Security Management. Given that we are a reference company in Information Security Consulting, Advisory and Audit, the implementation and adherence to the Standard has been/was a natural step for the organisation.
We have been one of the first national companies to get certified and thus gives the example as a provider of consulting and auditing Information Security specialized services by submitting itself, successfully, for certification in the international reference Standard in Information Security Management - ISO 27001.
With this certification, we reinforced our credibility and INTEGRITY in Information Security in the whole life cycle of its client's business whilst also being at other companie's disposal to provide them with its know-how in the process implementation, preparation and application for this certification, with complete expertise in this process as it is also ISO 27001 certified.
The Management system that supports the certification has been conceived and implemented by our consultants and audited by the independent certification authority SGS, internationally accredited by UKAS.
Meanwhile, we launched an information portal about ISO 27001 Standard, which can be visited at www.27001.pt.
Contact us for more information.